MAJA
It was in June 2007 that two 19 year old, would be ocean sailors came to visit me here in Västervik.
Their business: The wanted some advice.
They had an old Albin Vega a 8.25-metre (27.1 feet) sailboat with a eight feet beam. The Vega is considered a solid sailboat and it has cruised around the world.
Thomas the owner told me that he had just graduated from high school and before starting a career he wanted to orient himself in this complex world that he could chose the right direction.
They had only a small budget. They lived on the other side of Sweden and I had told them that they were welcome, but that I was not shore that my advice would be worth such a long trip.
They wanted to purchase a self-steering wind vane. That kind of equipment does not come cheap. A second hand one would take a third of their budget.
My advice was that they buy some elastic and rig a sheet to tiller system.
In a few years the wind vane have become so common that many sailors have no knowledge of the sheet to tiller technique.
Thomas the owner was a doubting Thomas by nature, skeptically he accepted my advice, it helped that he did not have much money.
They left after a few hours. After several weeks had passed I got curios and gave the number that had called a ring. It was Thomas that answered.
He said that his friend had jumped ship and that would be no sail.
I told him that was no reason. He had to sail single handed.
I have never sailed at night, I have not sailed further than Denmark, 25 miles, my mother has always done the cooking and laundry, he said.
I help you to get started and I can lend you a sextant I told him.
About a week passed before my phone rang.
"What are you waiting for?" his brother had said, which convinced him. Thomas picked up the phone and told me that he was happy to borrow the sextant.
Now it was July and most of the short Swedish summer had gone. The days were getting shorter again.
To get ready before the autumn storms come we must work hard. We swore a pact.
I drove across Sweden to Smultronvägen – The Street of wild Strawberries – in Hunnebostrand arriving just at dinnertime and was welcome by his family.
After the meal we went down to see the boat that was moored Mediterranean fashion. I climbed aboard. What I saw nearly made me faint. In the cockpit they had installed two huge speakers.
"I do not like noise" I told Thomas.
 "No problem" He said. "If you do not like noise I will not turn them on"
So far, so good.
Then we went below.
Look nice curtains he said.
The boat was clean and huge, plenty of space.
But it was not prepared for the high seas, despite huge speakers and nice curtains. We had a lot of preparations in front of us.
We planned and made a list.
As to establish an order of command I started to call Thomas Captain. I was there to act as a mentor, to introduce him to the art of seamanship.
After about a week I was back with the rudder and my books.Vega is a production boat that was built in thousands of copies between 1966 and 1980 like all mass produced things she had her shortcomings but they were well know.
Her rudder was hung on a half long keel. That did not give the rudder much leverage. We decided to add one on the transom. Captain Thomas was skeptical as usual. It did work just fine.
The deck stepped mast was not well supported. We decided to reinforce the deck beam.
We needed much storage for food. We built a box between the bunks. We changed the rigging. We changed the windows. We installed GPS and AIS. We bout a life raft and much more.
I drove back to Västervik and made a rudder and packed plenty of books.
After about a week I was back with the rudder and my books.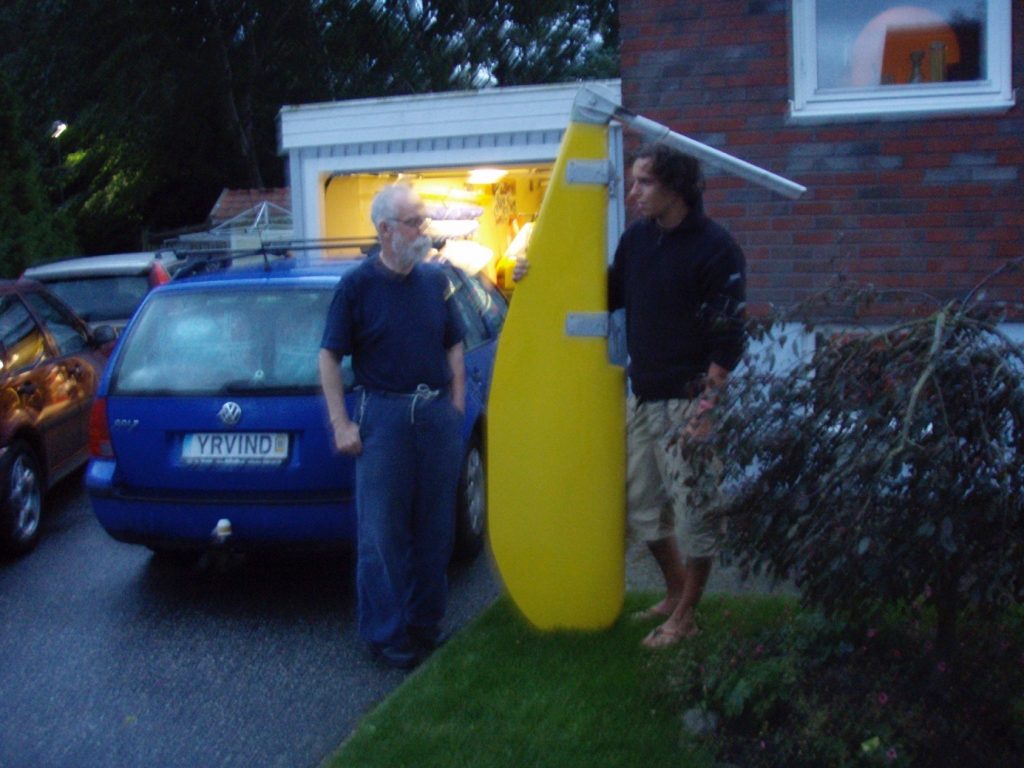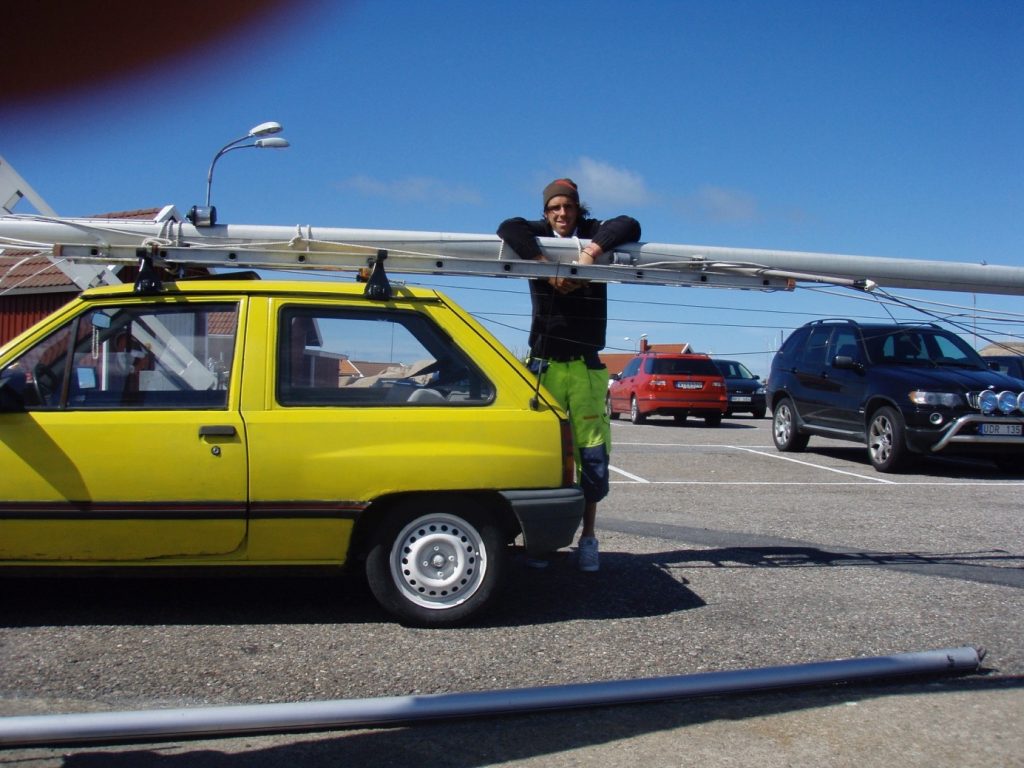 24 August was set as the date of departure. We had decided to leave from Ellös were a floating boat show was going to be held.
I had contacted Sweboat, The Swedish Marine Industries
Federation and they thought it would our departure would be an interesting feature.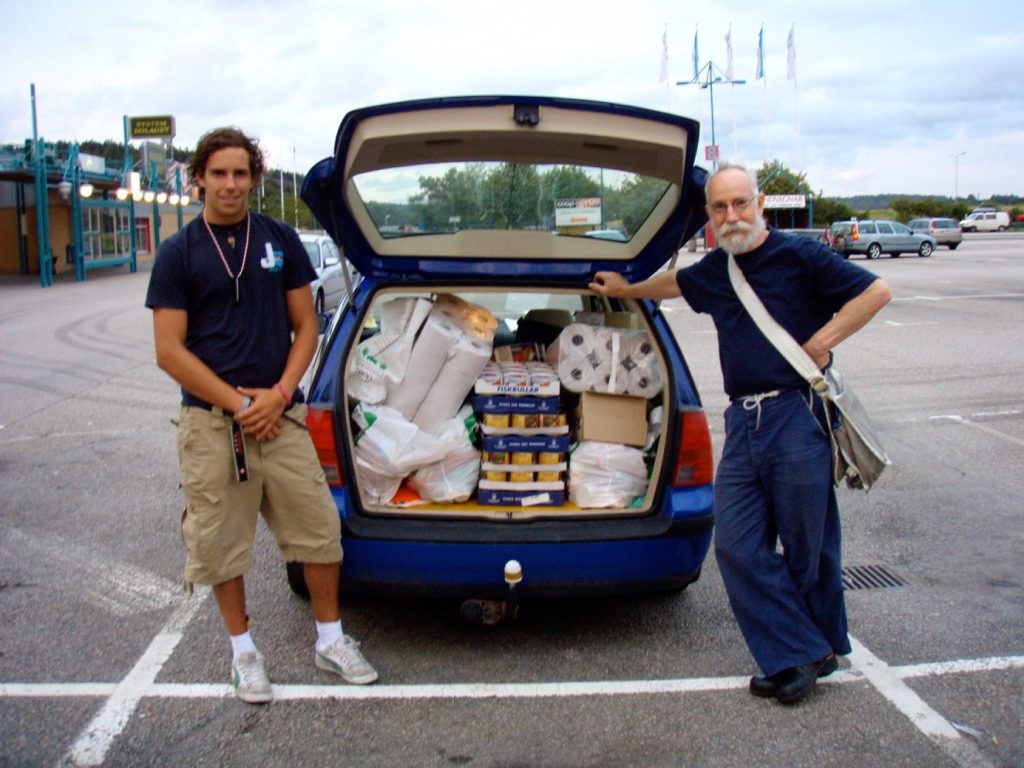 Ellös is not far from Hunnebostrand. On the afternoon of 23 Captains family and friends were down at the dock to see us of.
The engine did not start. Captain, his two brothers and his father all practical and persons started to take the engine apart.
Several hours later we cast of. Now we were pretty late but the weather was nice. It was about midnight when we arrived.
Departure was planned to be three PM to let the visitor's se the boat and talk to us.
I woke up eight in the morning. I let Captain who had worked nearly round the clock the last days sleep.
Up on the dock I met a committee from Sweboat. Get out of here they told us, politely but firmly.
Your departure is three PM they told me. Come back then.
Sweboat has an age problem. Customers are 50 – 60 years old. There was a campaign to attract younger persons to sailing. Now by helping a 19 year old boy to sail the seas I thought I was doing good.
Problem is the industry is producing boats so expensive that no young boy can afford them. There was a conflict of interest, short term and long term.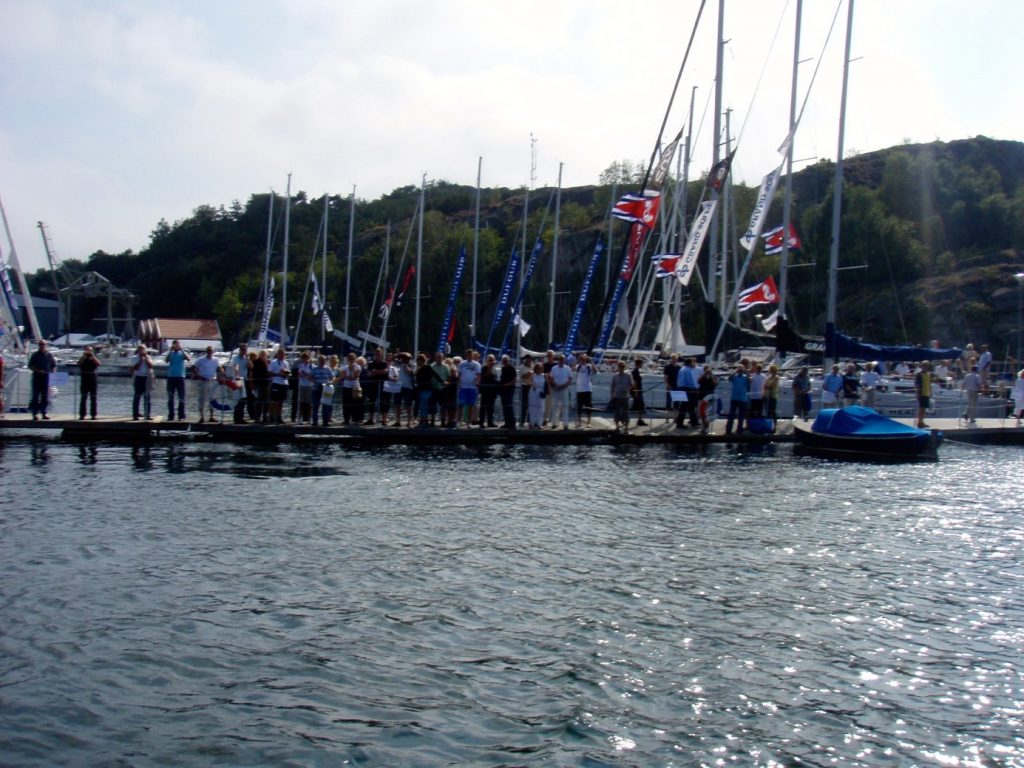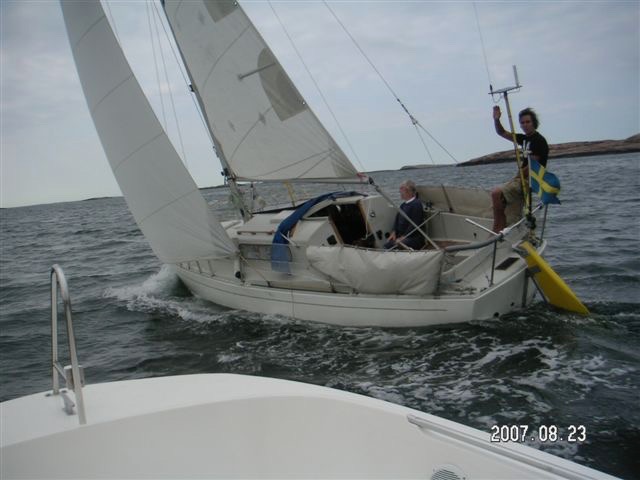 Sweden is an awkward place to start a long cruise from. Before you can reach the Atlantic you have to pass the British Isles. There are several ways to do that; by canals, through the English Channel, north of the British Isles.
We had decided to sail to Kristiansand, Norway and from there across to Edinburgh, then through the Forth – Clyde canal, down the Irish Sea down to Kinsale and from there directly to Florida to visit my friend Matt Layden.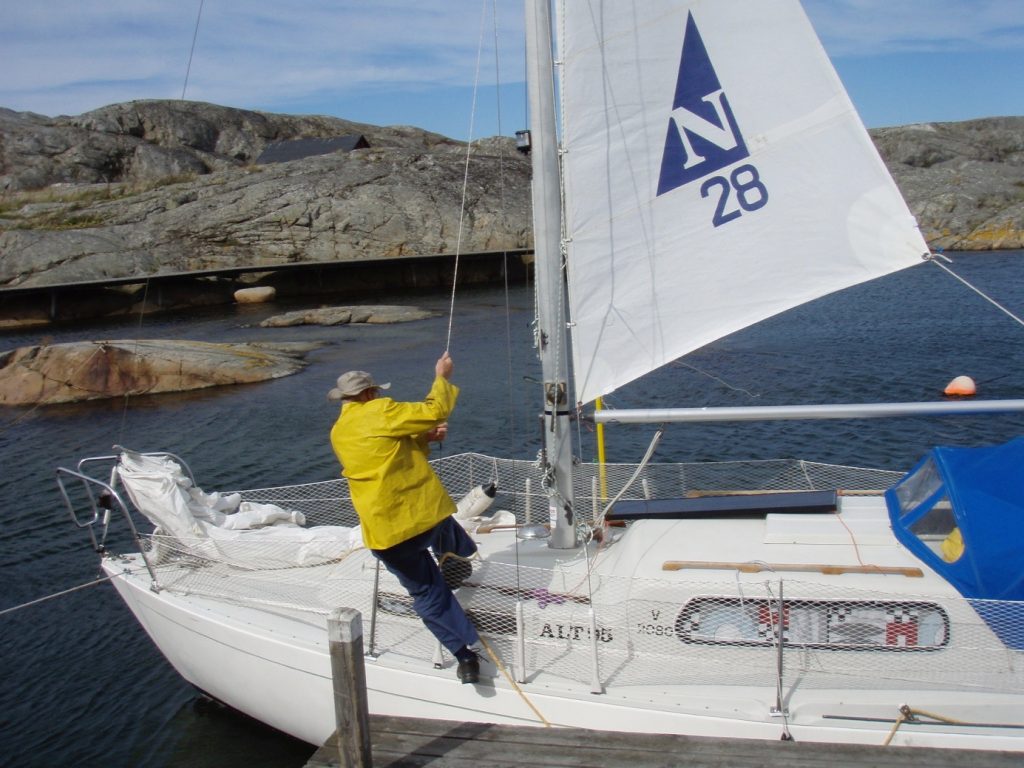 Coastwise sailing, docking every night, is very slow. Captain got frustrated. He preferred going direct for Edinburgh and maybe he was right. It was cold and the engine continued to give us trouble. After a cold sail we docked in Strömstad, last port before Norway. Hungry I bought a chocolate bar. As I dug my teeth into it I heard a crash. Two teeth had sheered right of, one on each side of the mouth. It was not chocolate but toffee. Captain was already discouraged by the slow progress and the sailing season was over.
However I got hold of my dentist. He contacted a colleague. Eight a clock next morning I was in the dentist chair. Ten we left for Norway.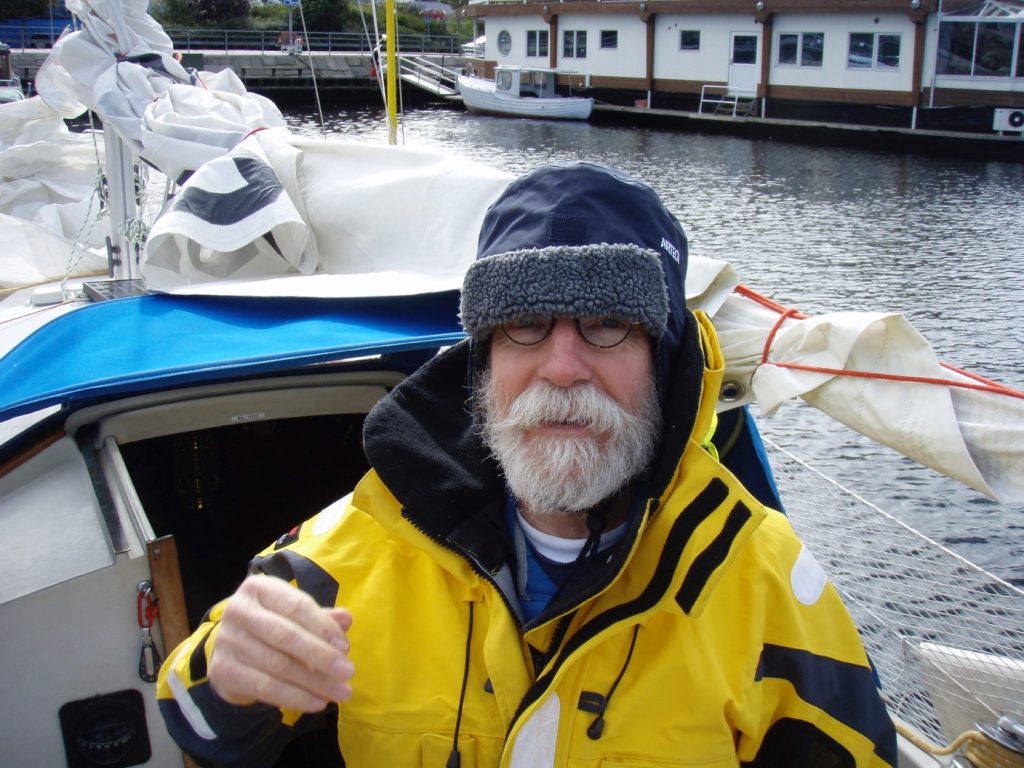 During the crossing we encountered all kinds of weather including waterspouts. We docked two a clock in the morning.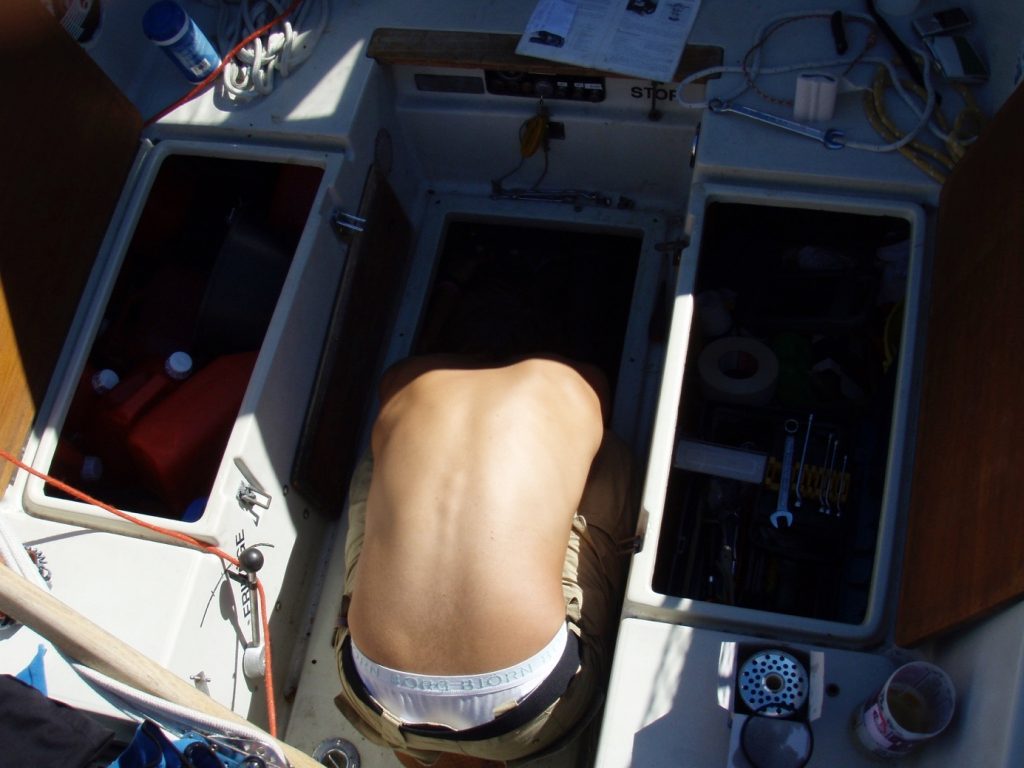 Next day the engine did not start. We decided to seek professional help. Are Elgen came to our rescue. A few days later we reached Kristiansand, the last stop before Edinburgh. Time dragged on. From the local library we checked the weather by Internet. It did not look good. It was September so we could not be choosey. One Friday night the local weather was nice and fine. The weather report did not look to good, but at least we would get a few hours good weather.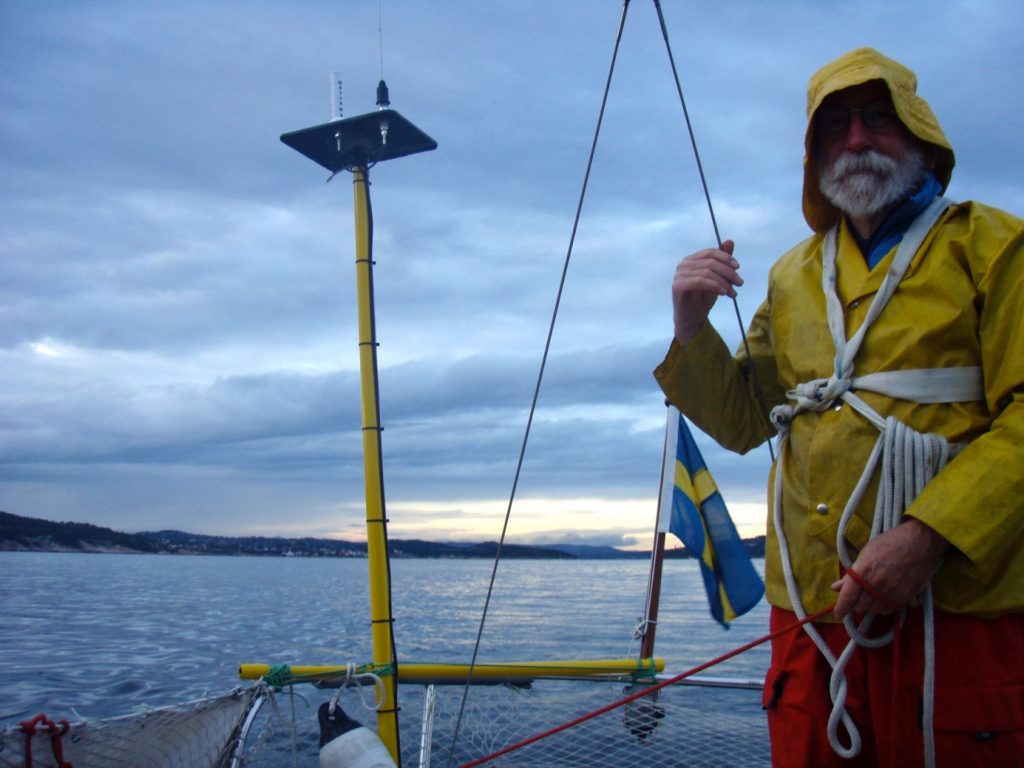 It did not take long before a storm hit us. Basically the boat behaved excellent. We had filled her with provisions and a lot of useful stuff. She was heavy. Her extra weight gave her a lot of stability. We had bought a storm jib and a friendly sail maker had made us a strong trysail.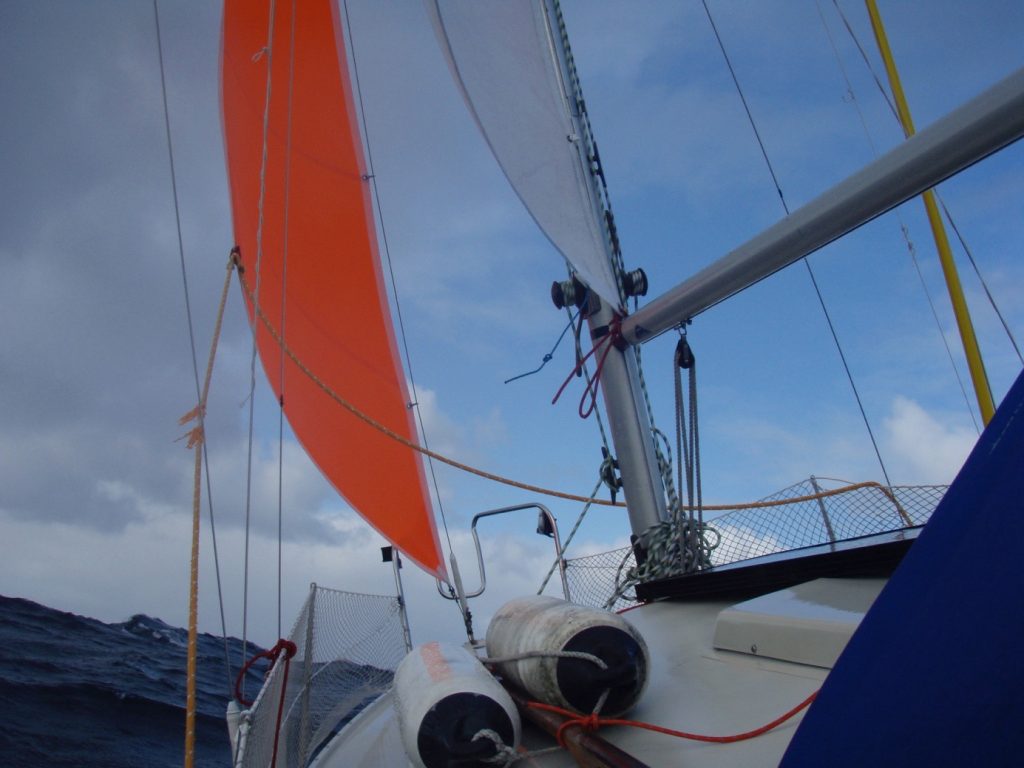 So far so good. Albin Vega was intended to be a rugged offshore cruiser at a favorable price. Emphases was put more on favorable price than rugged offshore cruiser.
She was more than thirty years old. Her sails had blown out before we replaced them with the storm sails. It was a northerly storm bringing cold. Breaking seas swept her. The deck started to leek at hull deck joint and through the holes for the screws that hold the grab rail. The once flexible bedding compound had longs since turned into a brittle mass of no use. Water was dripping everywhere. Fortunately we had purchased survival suits. We put them on. They kept us dry and worm.
Worse was, as I was leaning against the galley I felt as if someone was scratching my buttocks. I realized that the whole boat was flexing and twisting. Flexing is a design approach. The wing of an airplane is flexing all the time, a tree does the same thing, but should a sailboat flex in a storm. According to Robert Hooke's low of elasticity is everything that up a force flexing. I realized it was a question of doses. As I was pondering the question Captain asked me if it was safe. Not very reassuring I told him that I did not now.
It was not rely the answer he wanted to hear. Later he told me he rather be home.
After four days in a rather battered state we reached Edinburgh. The interior of the boat was no longer attached to the hull. Even the chain plates had started to move. I had never sailed on a production boat before. When I build something, I build it strong, I build it to last.
Maja was a bit more than I had bargained for.
"Captain" I said, "Maja is rotten."
That led to a crisis.
Captain understood it as if I was giving up and noticed it his secret dairy. My utterance was only a statement.   Luckily Nils Malmgren had supplied us with epoxy and Bumax had donated screws. After drying out the boat we started to rebuild her.
The voyage through the Forth Clyde canal was fine except that the engine was not strong to cope with the seaweed, but after two days we felt fenced in.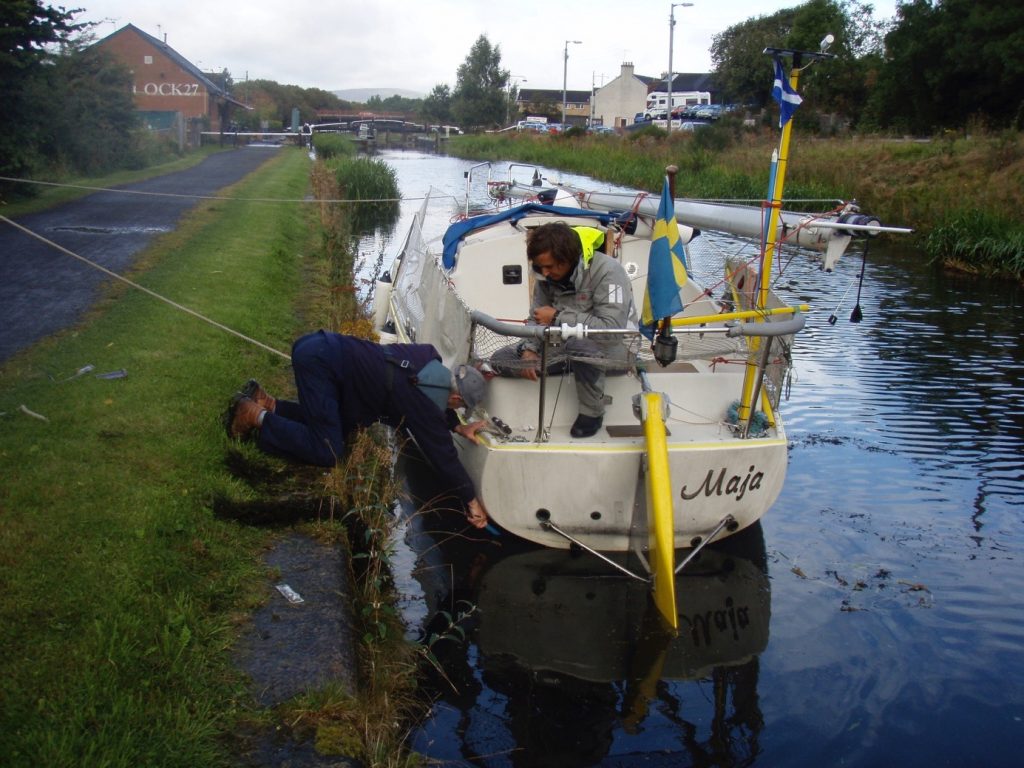 We had a good weather report before entering the Clyde, but we had not sailed far before we suddenly were hit by a strong squall accompanied with rain so heavy that it blotted out visibility. As darkness fell we entered Kip marina. The rain pored down. Luckily we had brought with us a little electrical cabin heater from Captains car.
Next day was a Sunday. The heavy rain continued. To pass time we spoke to the marina crew and now and then bought an ice cream. They did not think much of our boat or us or booth. It was late in the season the suggested that we leave Maja at their marina for the winter and come back to spring when the weather conditions would be more favorable.
It will take you three weeks to reach Ireland was the consensus if we could manage the strong tides.
We told them that we where not ready to postpone our voyage. As the day progressed they came up with another suggestion.
There was a big American boat that was going to leave in a few weeks time. We should wait and leave at the same time. It is strength in numbers they kept repeating.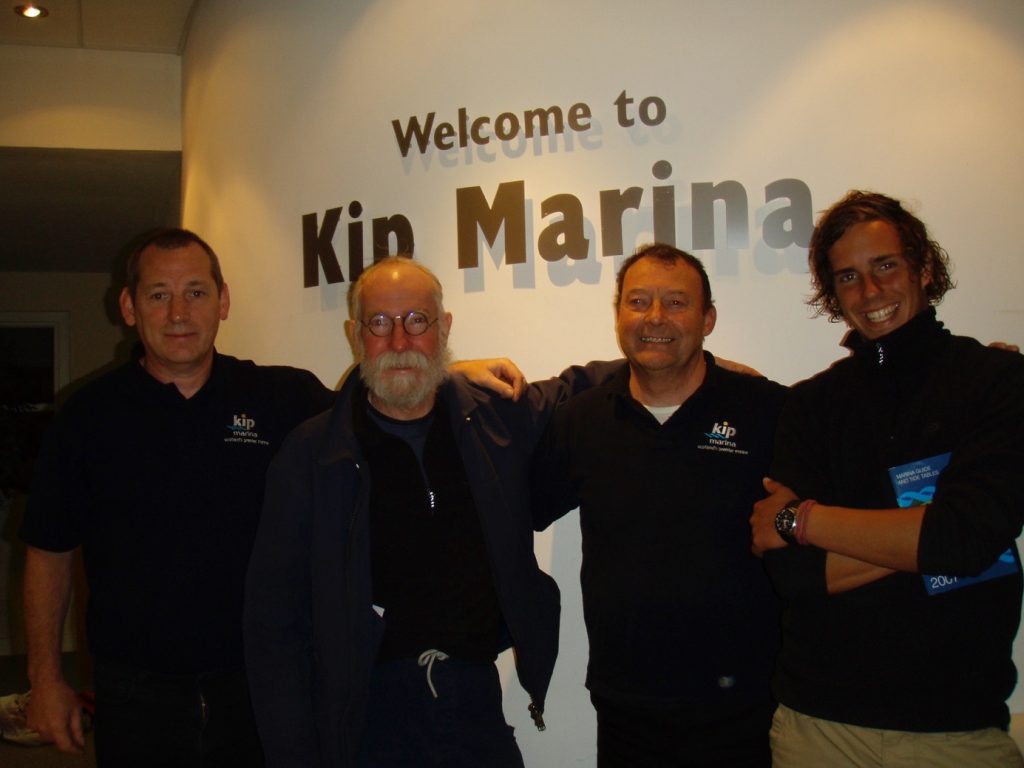 We used the time to watch the weather on Internet a gale with northerly winds was forecast. Towards evening the sun broke out. There was no oil pressure in the engine and wisely Captain did not like to start it. We asked a powerboat to give us a tow out of the harbor.
The wind increased to strong. Captain took the first watch. I went below to get some sleep. The hull started to bang, twist and flex. I went on deck to see what was happening.
Captain was singing and laughing "Sven look", he said, "we doing eight knots its fantastic"
"Captain" I said, "I suggest you take in a couple of reefs to make Maja last all the way to Florida"
The speed dropped a tiny bit.
At dawn we where nearing Bangor, just outside Belfast. The passage had taken us about 16 hours. We had business to do in Belfast.
Earlier the same year I had visited Matt Layden in Florida as a tourist. On the airplane I had to fill in a waver instead of a visa.
Captain had asked if we needed visas. I said no.
Still one day during the refit in Sweden prior to departure I heard Doubting Captain Thomas on the phone to the US Embassy checking. Trust but verify. Visitors coming to the US by yacht needed a visa he was told. The procedure was not simple. It would take at least ten days. Yes you could get the visa from an US Embassy outside Sweden but that would be much more difficult. He was told. Our intention was to get visas in Belfast.
As we cleared into the marina we asked the clerk. He knew all about it. His wife had spent the last three weeks trying to get a visa.
He helped us to print out the applications. Then we had to get photos in a special format from a certified photographer. He gave us directions.
With the photos we took the local train to Belfast. During the train raid Captain filled in the papers, something above my ability.
In Belfast we found Internet in a youth hostel to supply the information hungry embassy with more details.
When Captain pressed the print button the computer crashed. It had a Linux operating system. Luckily the hotelier knew all about Linux. It was he who had installed it.
Now it was afternoon and the embassy had closed for visitors. We try to talk our way in I told Captain. We walked up to the gate and told our story and how much more dangerous a Biscay crossing became for each days delay.After some time they said we talk to the girls in the office. The guards are important persons and sure enough we were let in. After again told our story and given papers and photographs we were told to come back eight a clock am.
That too went well and now we were told if the computers did work we could pick up our visas three pm.
A mechanics helped us to fix the engine. It was not the oil pressure, but other things.
We had now stayed in Bangor a few days and spoken to a few people. It was much the same advise as we had gotten in Kip. This time of the year we would get headwinds all the time and make no progress, but as in Kip a new depression with northerly gale force winds came up on the weather sights. We left Bangor four a clock a.m. a dark cold morning with freshly issued visas for the United States of America. The wind was howling in the rigging of the boats and on the wall of the marina it was written in light: gale warning. With a working engine we cleared the marina rounded the headland. Wind and tide now carried us with twelve knots towards our destination. We kept well offshore to avoid sandbanks and coastal traffic.
Four AM 27 of September docked we at Kinsale we had made the 270 miles in 47 hours.
As I said before we had planned to sail directly from Kinsale to Florida that's a bit more than 5000 nautical miles, nearly twice as long as the usual Canary-Caribbean crossing.
Nautical magazines and Internet forum had heard about our plans. We were criticized.
I was close to 70 years old and had not sailed for many years, 18 in fact. Captain was only 19 when we met. The age difference would never work. We had only known each other 3 hours before making the decision. The boat was to small and to old. It was too late to cross the Bay of Biscay and to early for the Atlantic. The trades had not started to blow yet and the hurricane season was still on.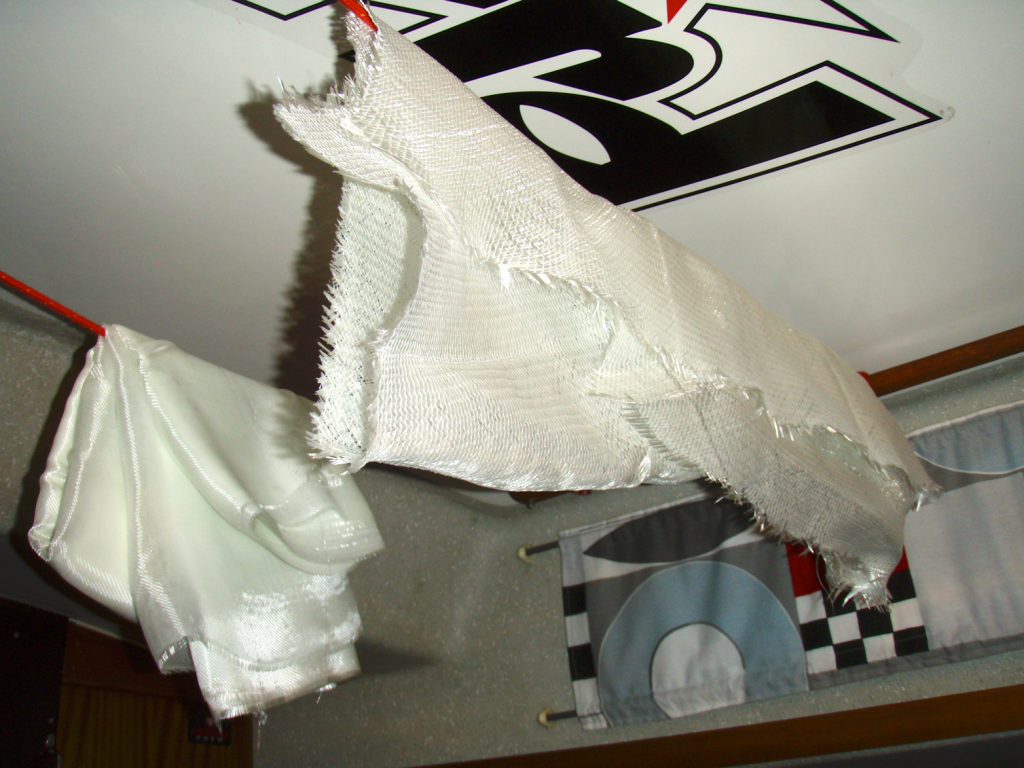 Then they elaborated on these themes on Internet not to our advantage.
We made final preparations. Our shopping and errands was done on foot.
Before the crossing we had to lift the Maja out of water to fix through-hull fittings, paint her underwater body with antifoul paint and several other things.
We lifted her at the very friendly Kingston Brothers boatyard.
Maja's through-hull fittings had sized up. It was impossible to close them. That was not seaworthy so we removed them and closed several holes.
We did a bit of glasswork. Our glass fiber like everything else had got soaked with saltwater. We consulted Nils Malmgrens epoxy chemist who advised us to wash it preferable in distillated water.
We also removed the toilet or head as seaman calls it because it used to situated in the bow or head of the boat.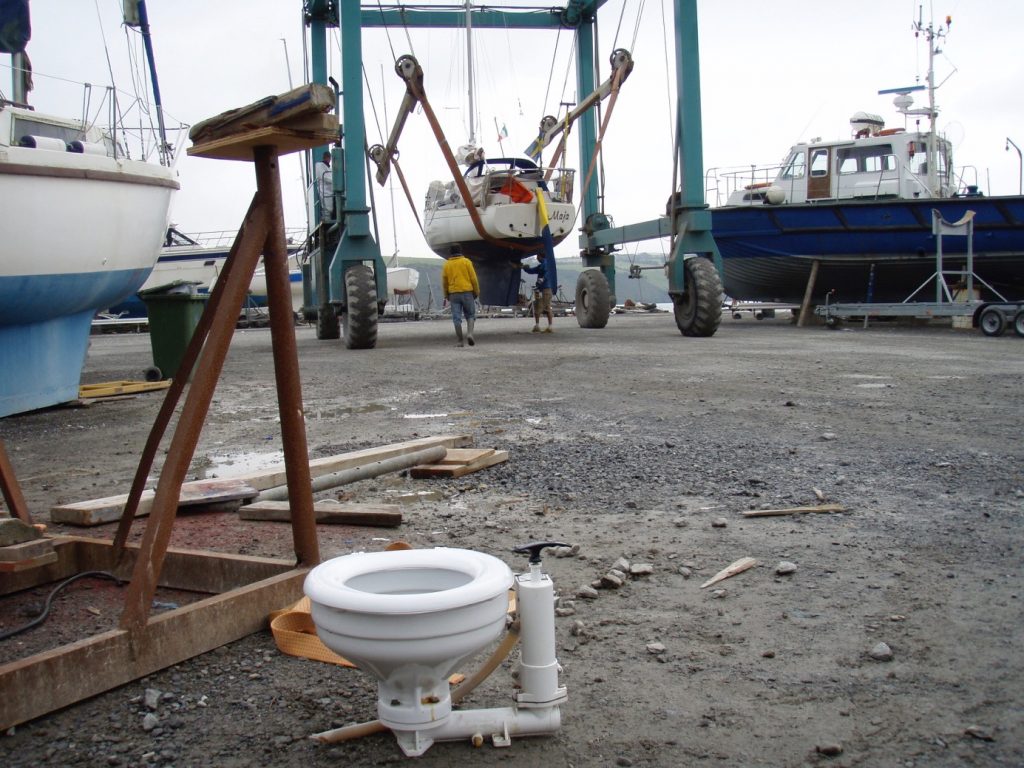 Much space was gained, Maja became safer, and we had one less thing to worry about. In all it was a good deal.
At that time Kinsale only had one food shop and it was expensive. It made Captain downhearted. I tried to cheer him up.
"Maybe we meet someone who gives us a ride to a town with cheaper shops," I said
"Who should that be?" Captain said refusing to see a bright hope.
In the queue at the checkout I asked the man behind me if he knew a cheaper place.
"Wait until we are outside" he said, "I have crossed the Atlantic myself"
We had met another yachtsman. He took us to a big cheap supermarket in another town. Now we loaded up. In fact we had already in Sweden, Norway and Scotland filled the boat with enough food for an Atlantic crossing, but I can never get enough, there was now no place in the boat for anything more.
Then one day I saw a fruit truck. I shouted to Captain who is swift footed, "catch him"
Captain did run and was able to stop the truck. I began to order boxes of apples, oranges, grape fruit, lemons, sacks of potatoes and onions.
The next day the truck returned with 300 oranges, 200 apples and all the other fruit and vegetables we had ordered. It was a lot, much more than we had imagined. Astonishingly boats can swallow plenty.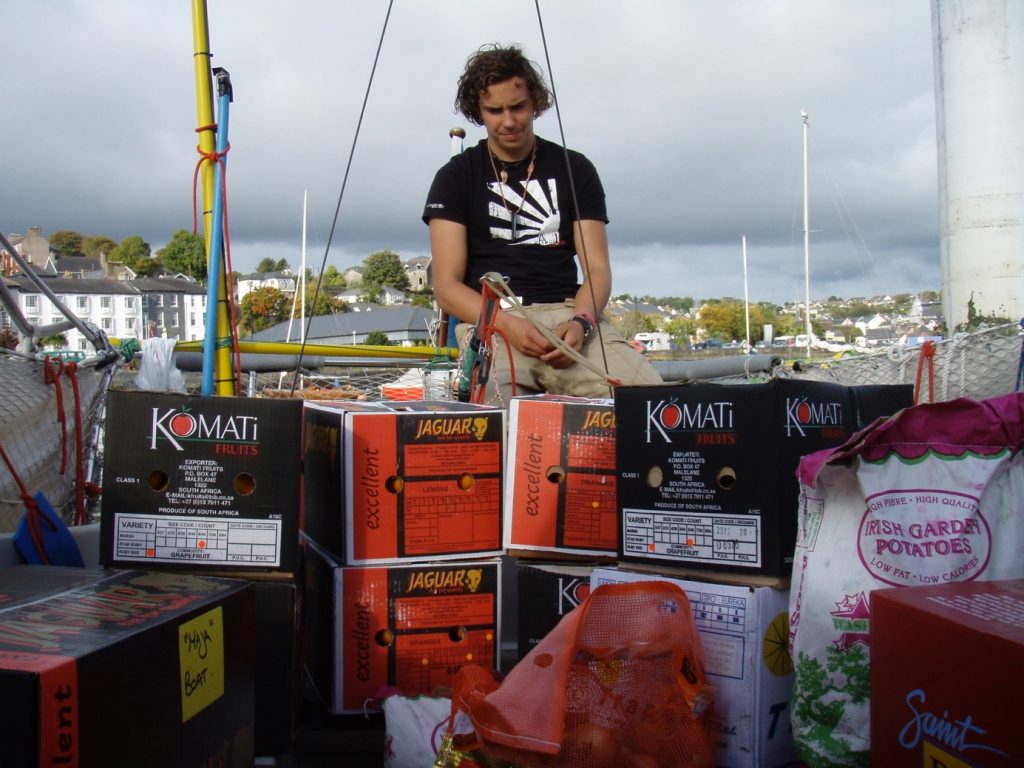 THE BIG LEAP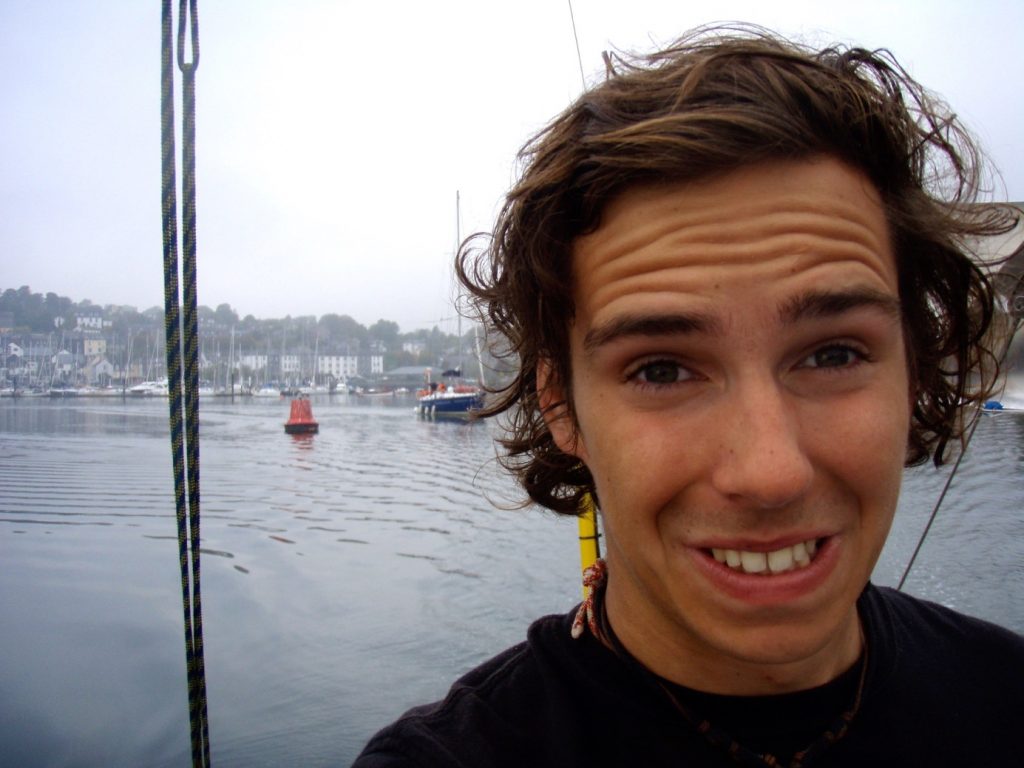 Now we were ready. The engine started. We left Kinsale early. Clear of land I handed Captain John Leatchers book: Self-stearing for sailing crafts and helped him to rig elastics blocks and thing. It takes some time to get the feel of the system, but in the end it brought Maja to Florida and back to Sweden.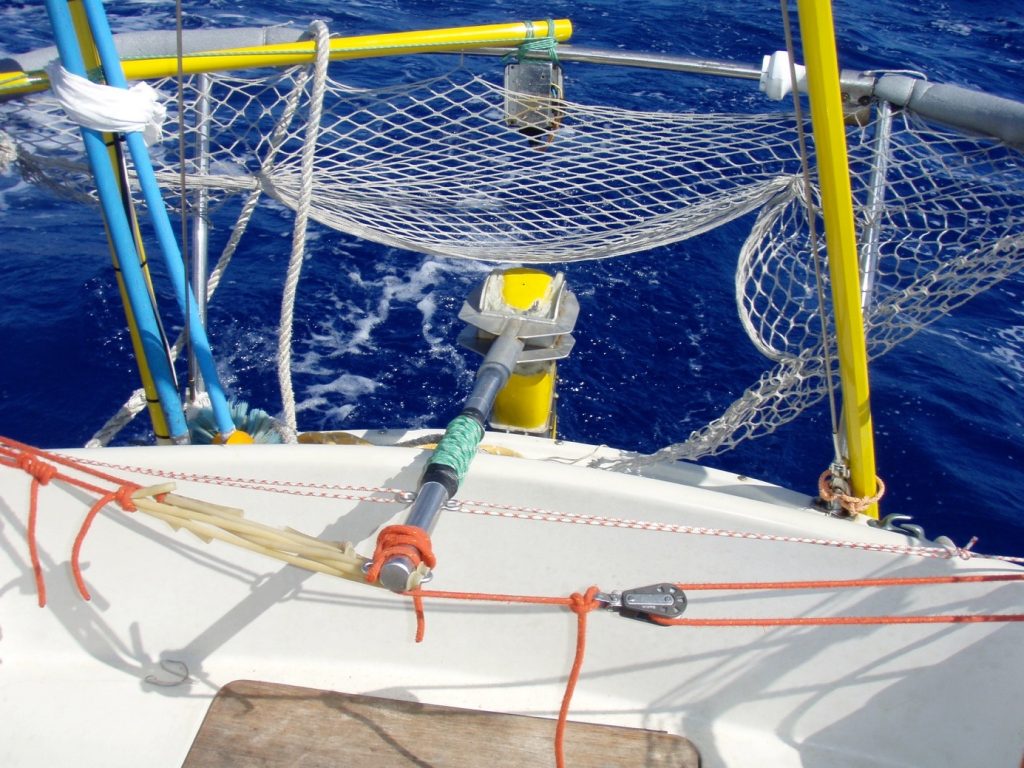 We nearly made Biscay in good weather only as we were nearing the latitude of Spain did we got a short lived northerly gale with some seas that pooped us.
The next day, in good weather, suddenly the electricity failed. Captain investigated. The bilges were full with water up to the floorboards.
We are sinking was my reaction. Captain quickly manned the pump. After not to long the sucking sound of the pump announced that the bilges were dry.
No more water came in.
This is what had happened. The boat was very heavy. The self draining cockpit was no longer self draining. The boat was to low in the water. There was a hatch in the cockpit leading to the engine below. After more than thirty years and several owners it was no longer waterproof. Breaking seas entering the cockpit drained into the bilges. Luckily the boat did not sink the previous night when we both of us were sound asleep.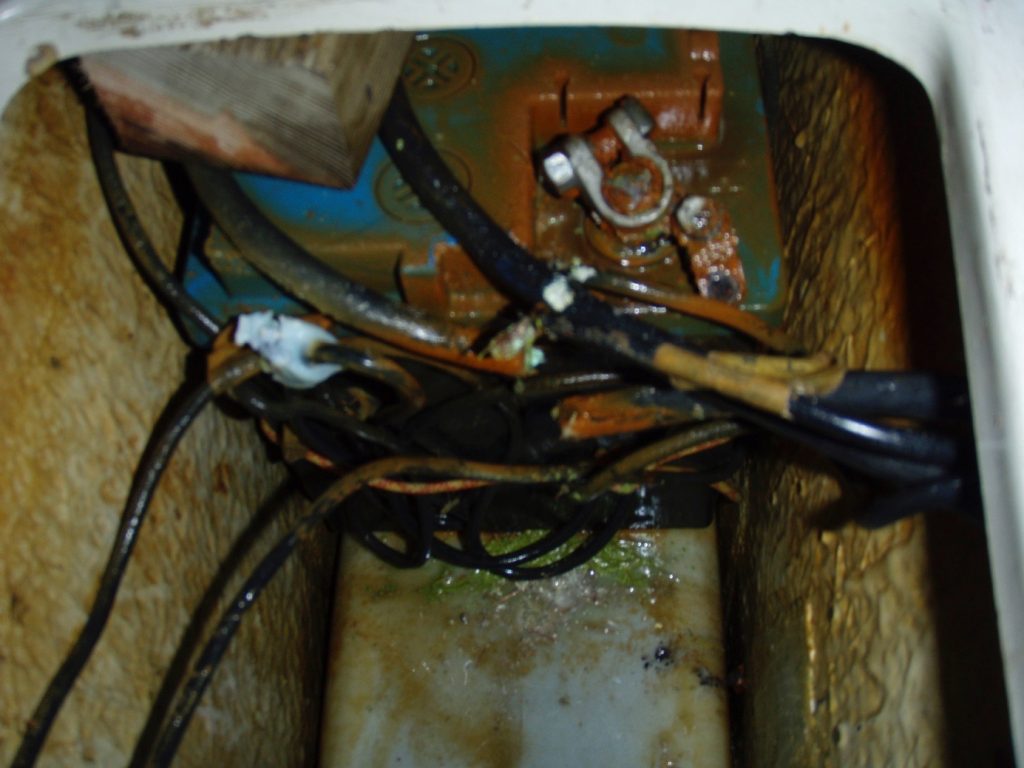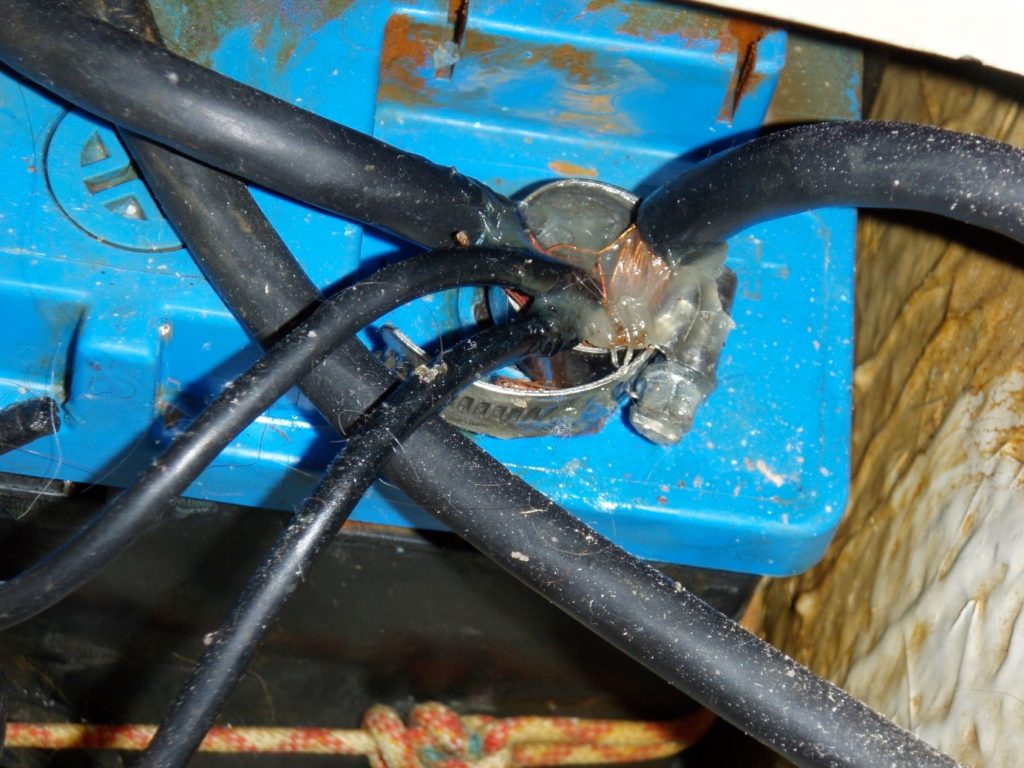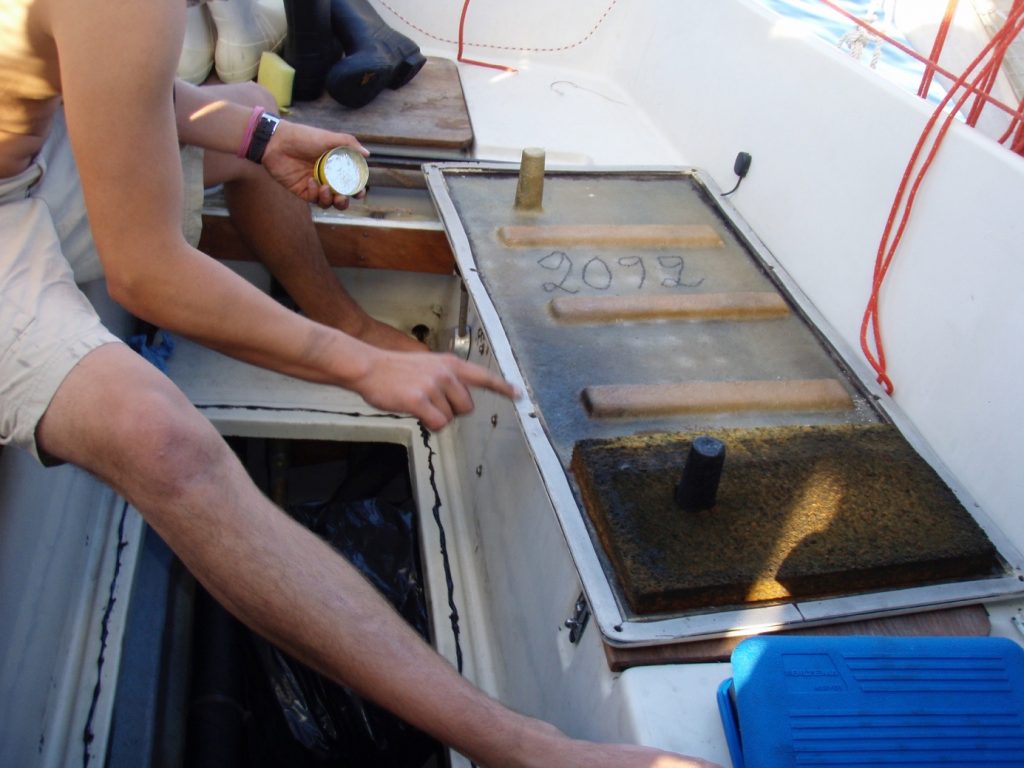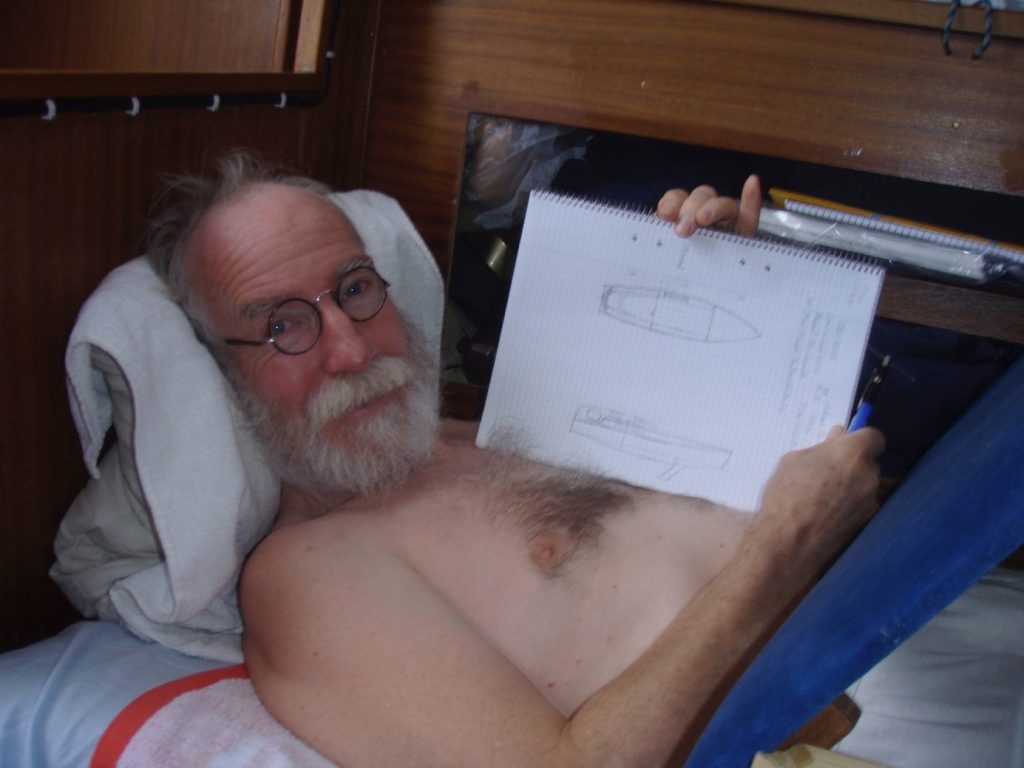 Outside Portugal we got northerly winds as expected. We kept going south leaving Madeira and the Canary Islands to port.The weather got warm and nice. We took a swim once or twice a day.
I was reading and designing next boat.
Captain kindly made the cooking.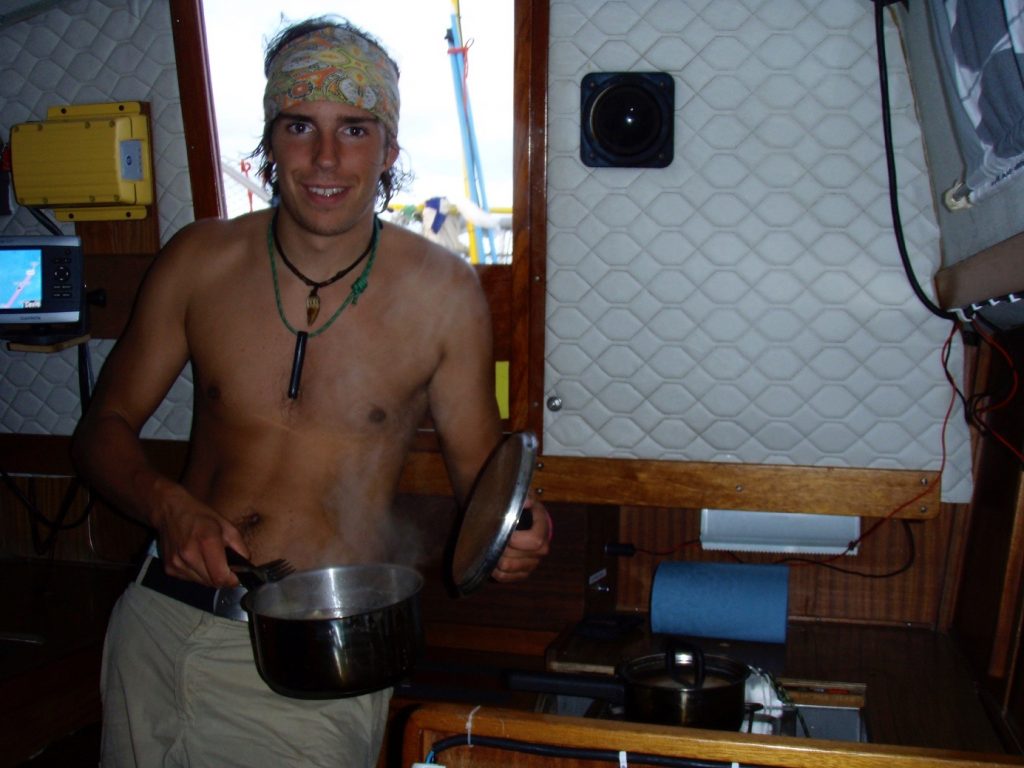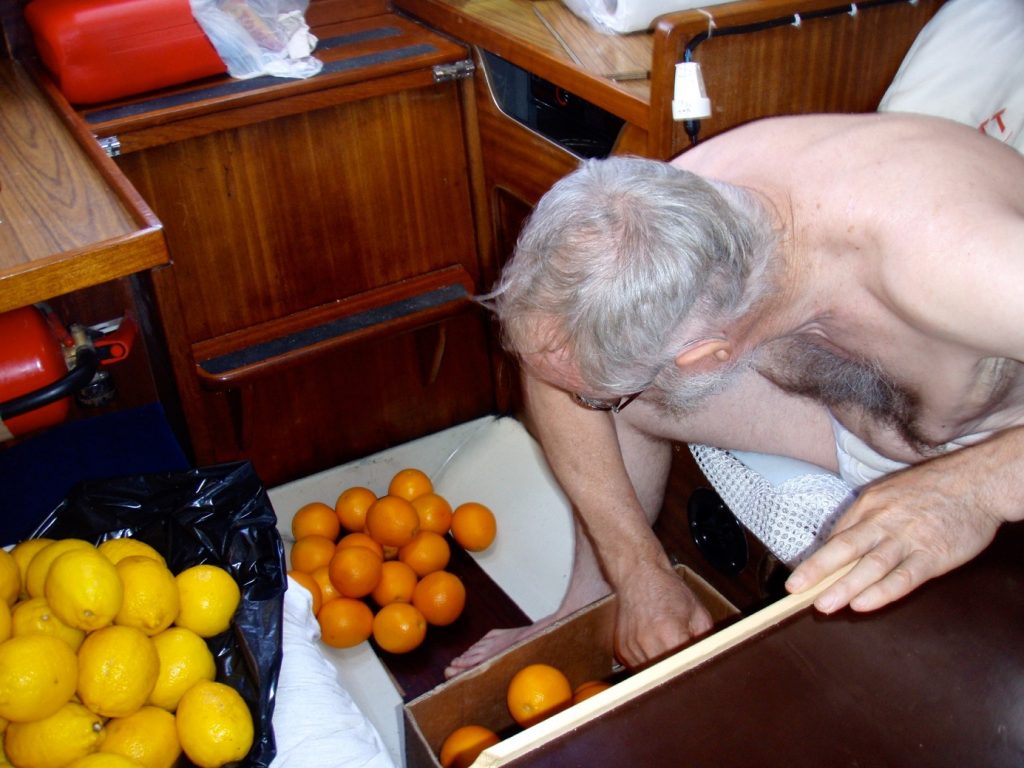 Before departure I had given him Nigel Calders book Boatowners Mechanical and Electrical Manual. It contained 960 pages. He read everything very carefully and if he did not understand I tried to elucidate.
He also trained one hour every day. I did teach him astro navigation. I had brought with me Bowditch's American Practical Navigator, the 1956 edition which I consider the best as it has not so much electronic navigation. I love GPS, VHF and AIS. Do not think otherwise.
There was plenty to talk about, hours, days, weeks and months passed in peace.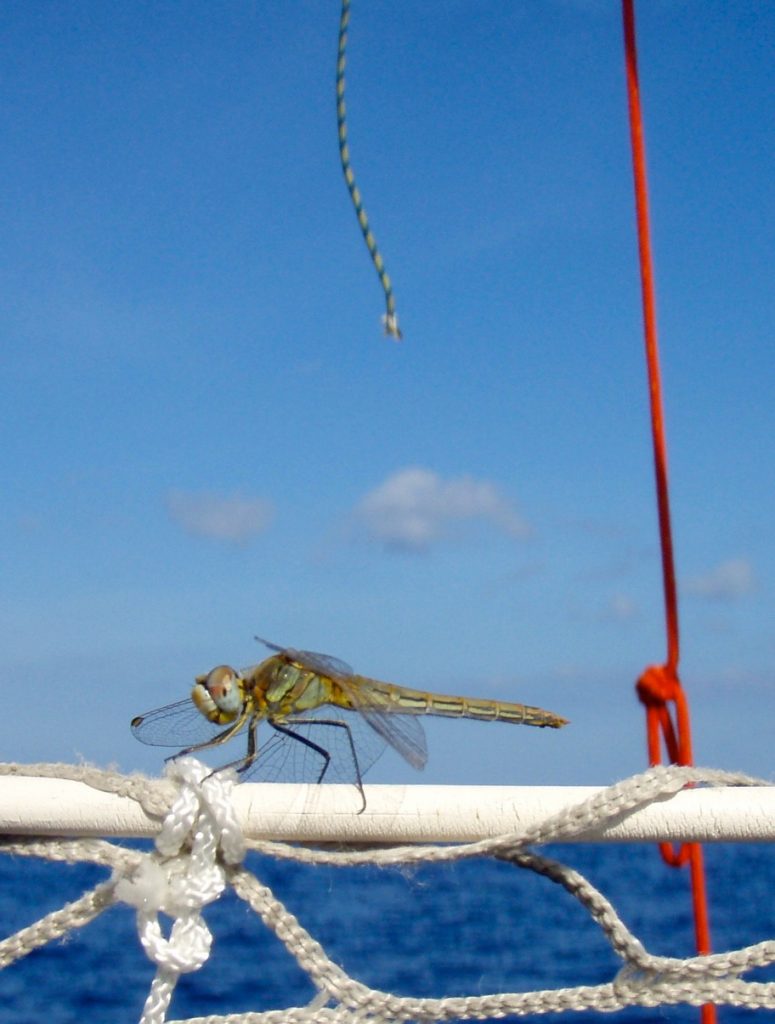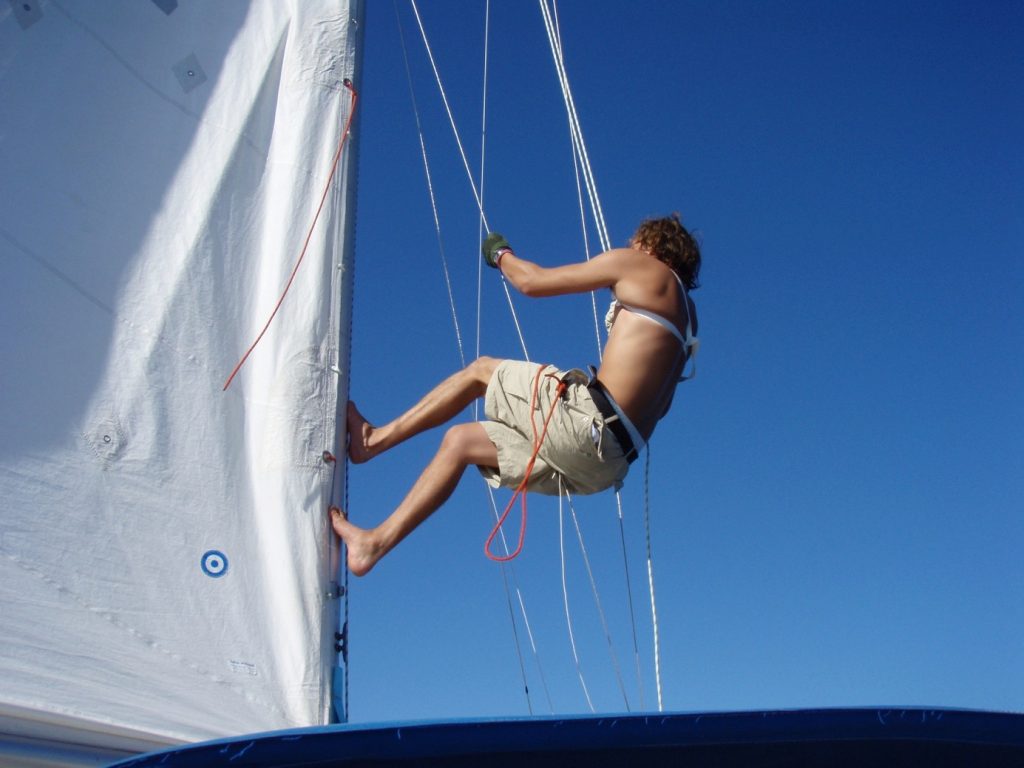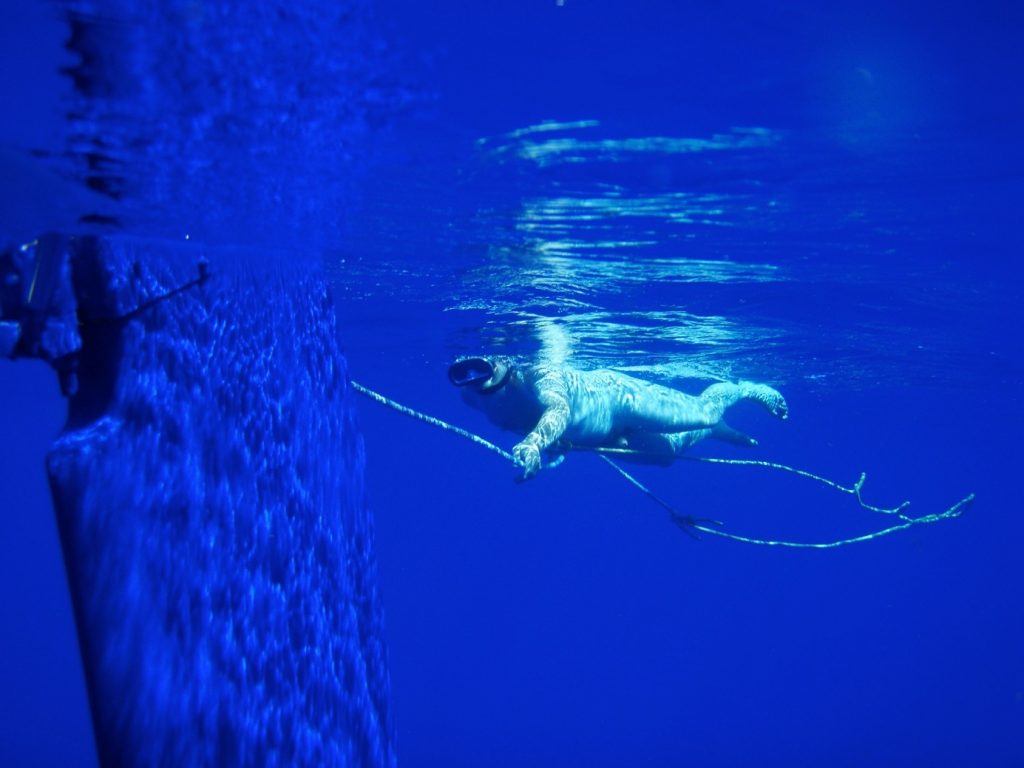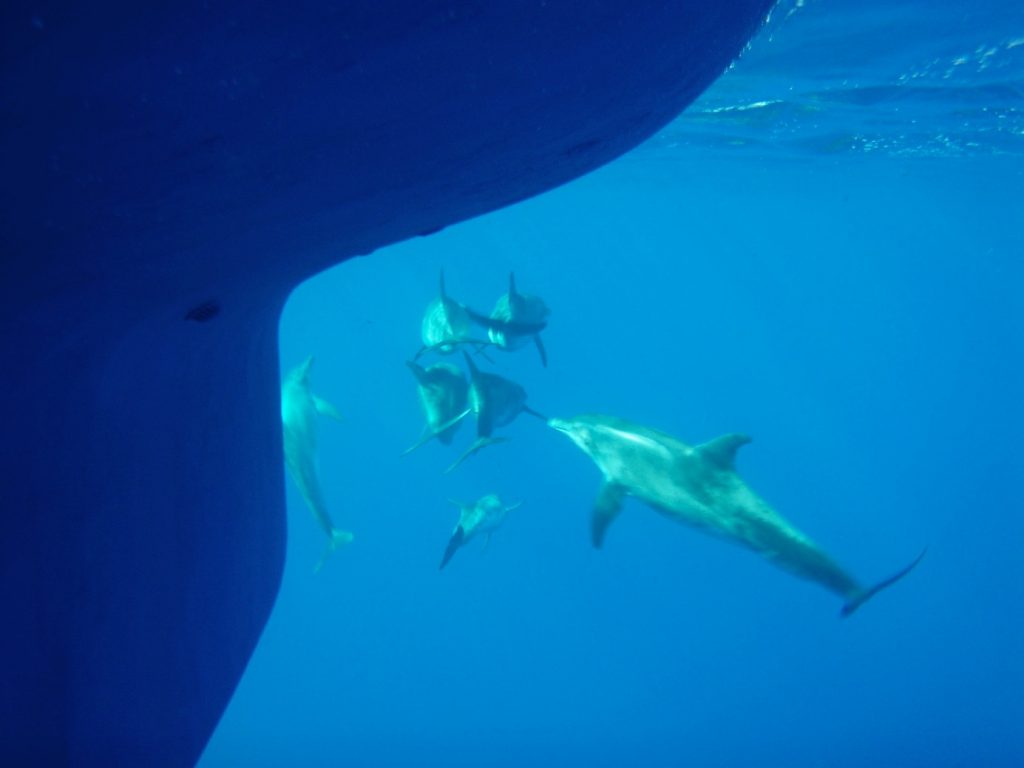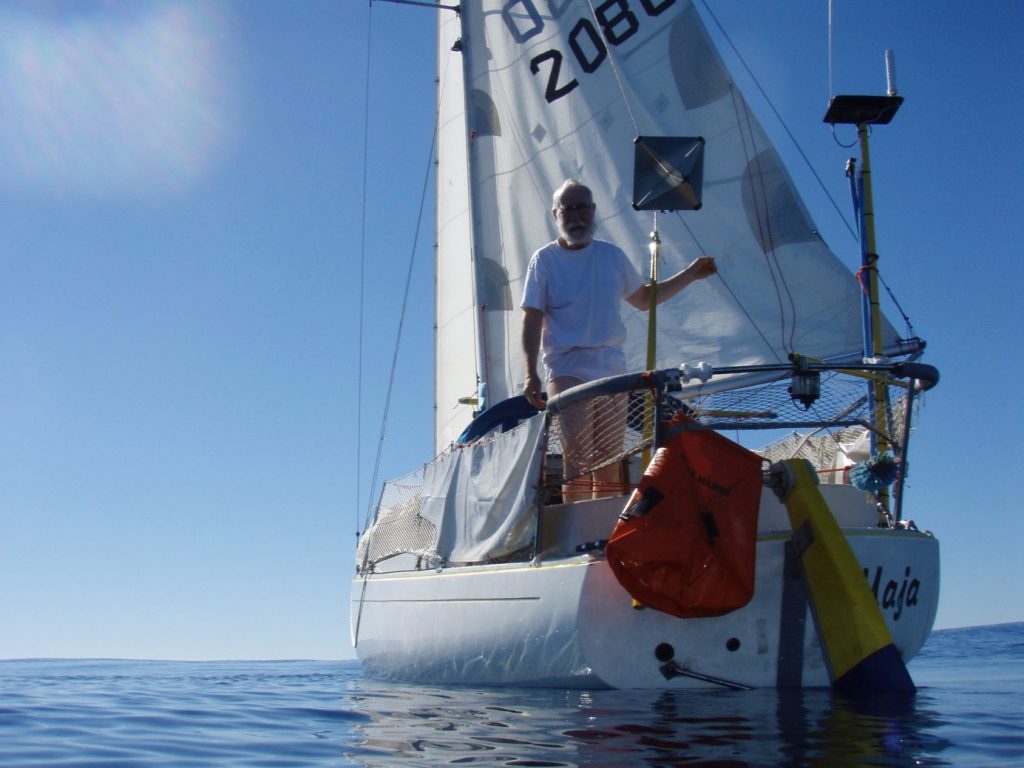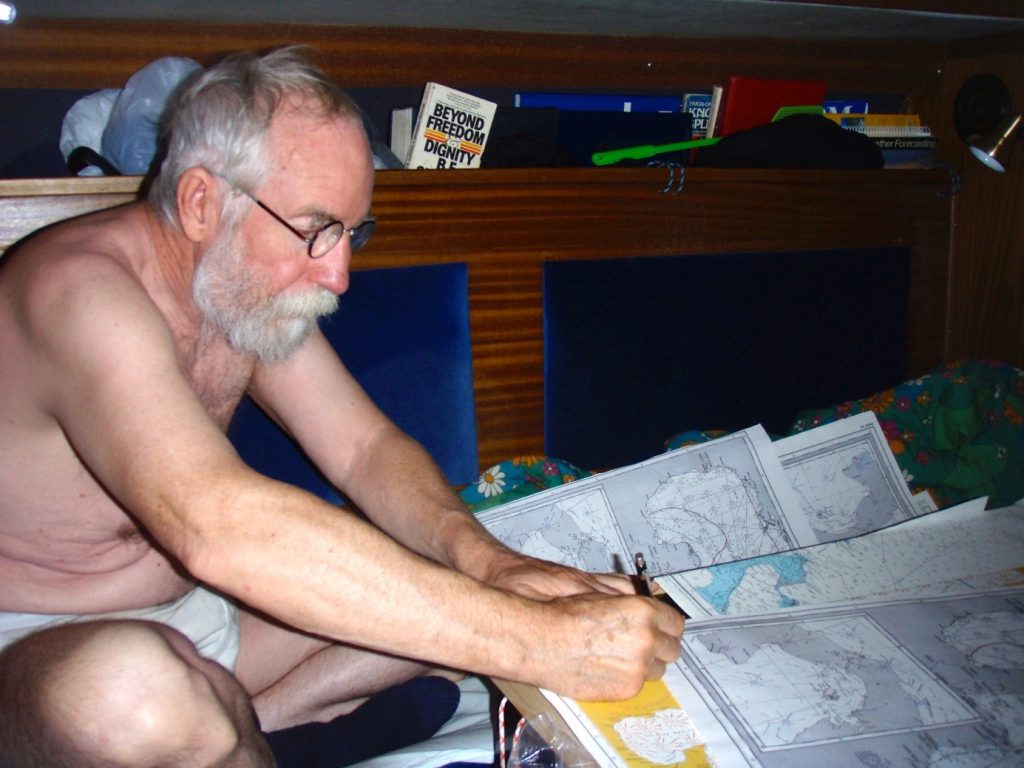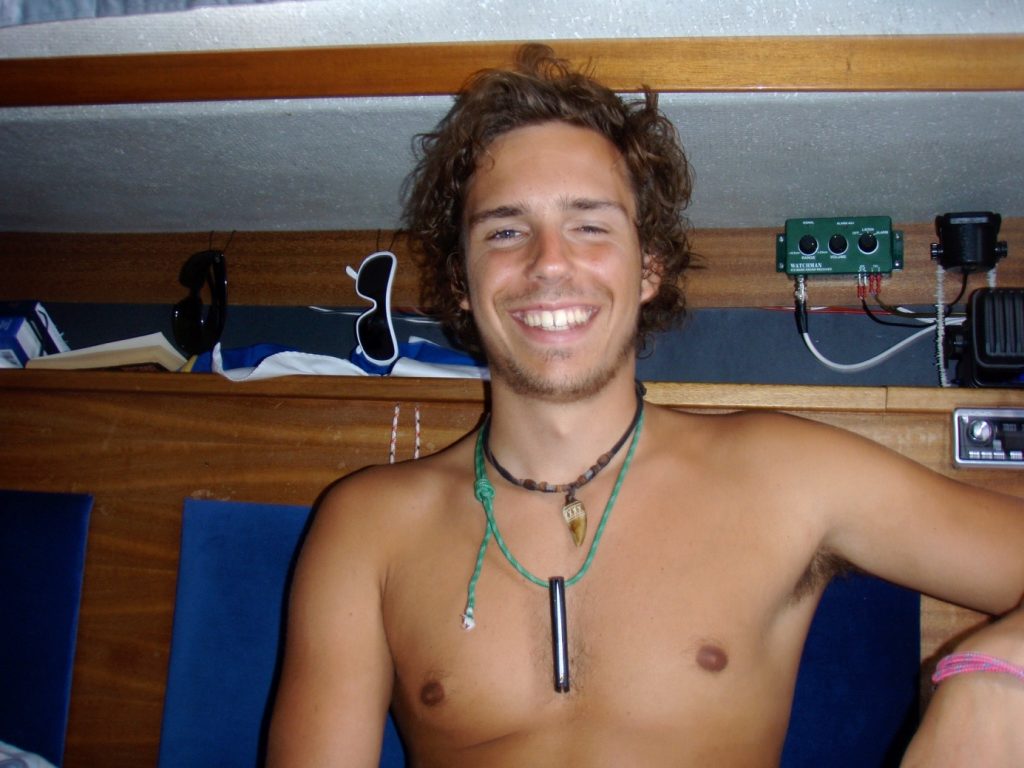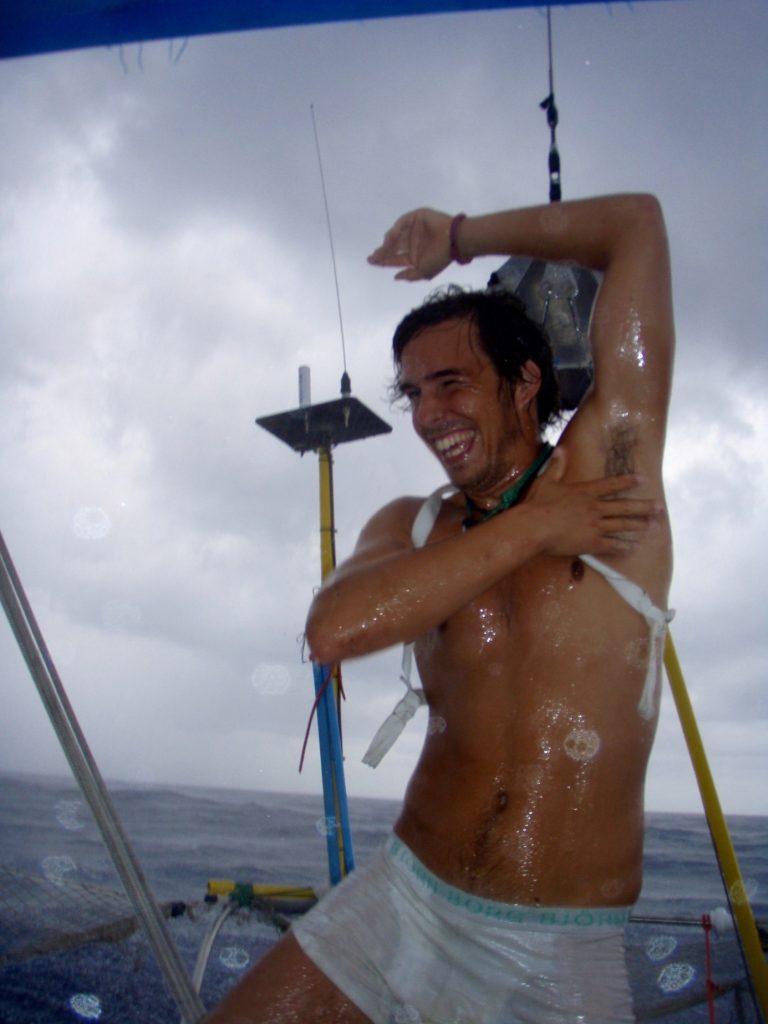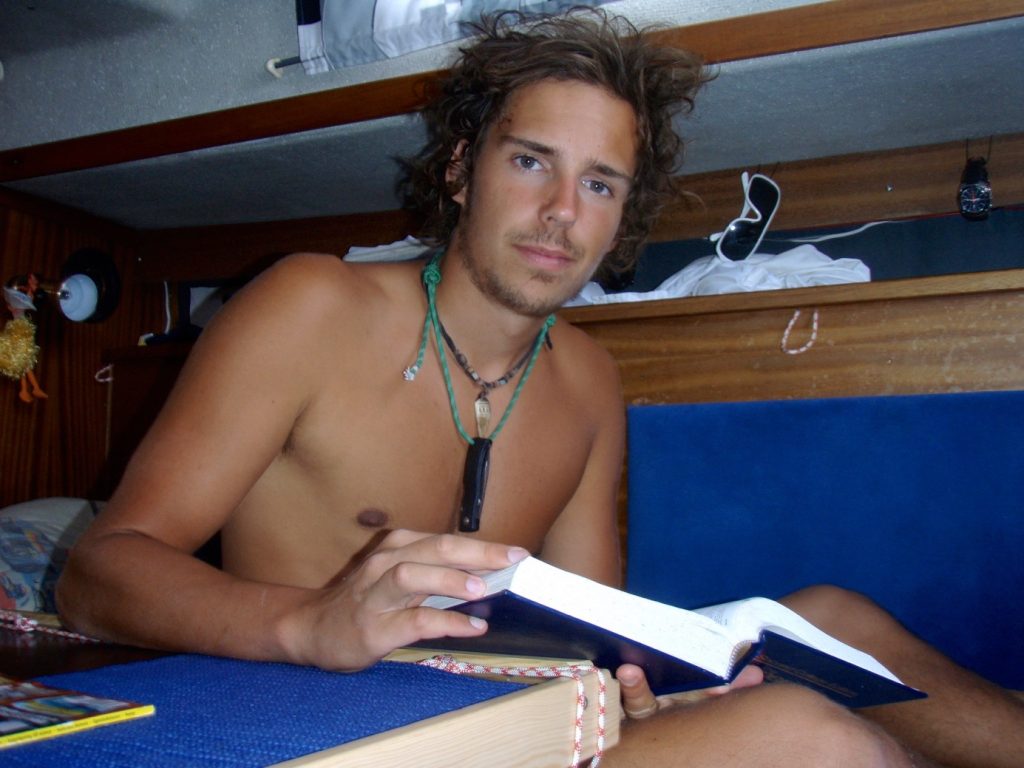 The first land we saw after 54 at sea was the Abaco Island on Bahamas. We sailed straight through them feeling fenced in. With our phones we could now talk to the outside world and report that we were safe.
Done with the Bahamas we now had to cross the Gulf Stream.
We had chosen Fort Pierce as port of entry. Captain was very eager to reach the US as fast as possible so he wanted us to set a course directly for Fort Pierce. I argued for a god margin of safety and wanted to hit land a good bit south of Fort Pierce meaning that the stream would carry us north with a good speed and if we missed our entry we might have a hard time beating back.
Once we entered the stream the wind died completely. The engine started willingly but as the hours without wind passed she started to act. The revs went down to idling even below that and then she came back and ran normal for a while. The intervals between irregularities became shorter and shorter as we got closer and closer. Finally we could see the high-rise buildings on the Fort Pierce even cars driving. Then the engine made a death rattle. Out came a big black cloud of smoke and all became silent and the boat slowly came to a standstill. Captain suggested that we ask for a tow from one of the many sport fishermen that were out enjoying themselves. I thought otherwise. Our maligners would have a field day if this story gets out. "Yrvind rescued in the Gulf Stream" I could se the headlines.
We wait for wind I suggested Captain was not pleased, but he listened.
Luckily wind came up. We also had the tide with us. After 56 days we docked in City Marina and cleared in.
Next day we sailed south to Jensen Beach were Matt and his wife Karen met us.
After spending some time with Matt talking boats, I flew back to Sweden.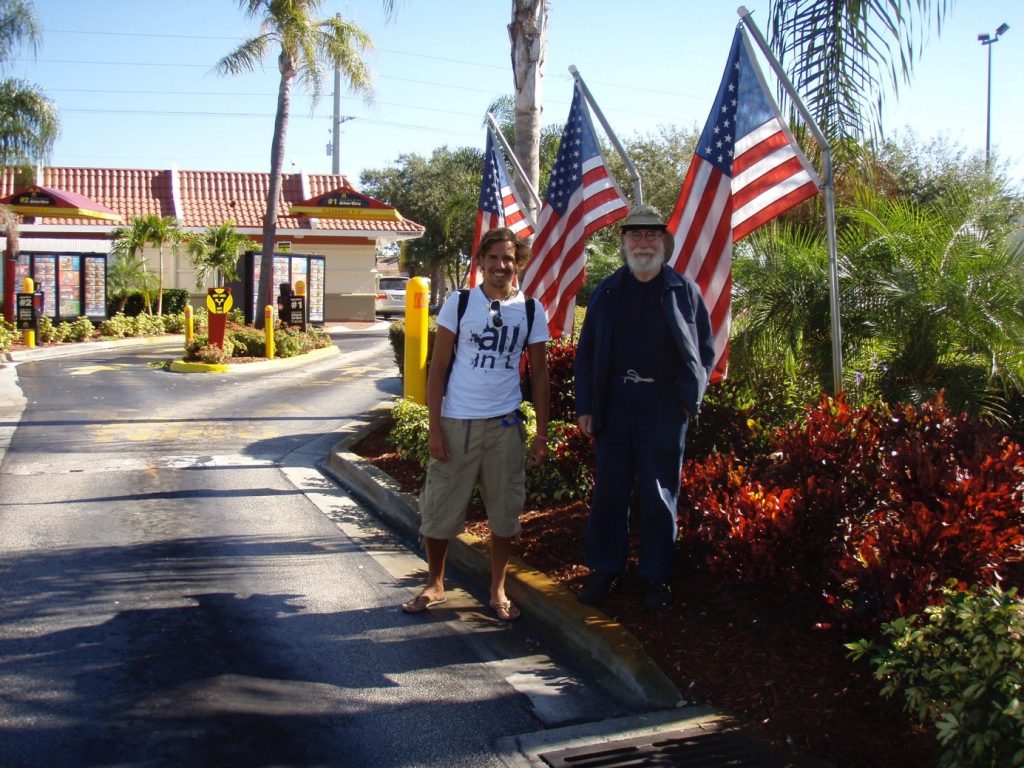 One day at the end of the passage Captain asked me if thought he could sail Maja back to Sweden single-handed.
"You are already, almost sailing her single-handed," I answered.
After a spending the winter in the Bahamas and Florida Captain Thomas sailed Maja back, becoming Sweden's youngest single-hander.
Now he is studying chemistry to become an engineer.
We are still enjoying each others company.