Thursday 29 March I met Yachting Journalist Jean-Luc Gourmelen from Voiles est Voiliers at the nearby airport Linköping. Voiles est Voiliers is France biggest yachting magazine. On Sunday 31 March he flew back to Paris. During his long stay here I made my best to show and tell him as much as possible about my past and my planned new project.
It is an honour to have been chosen for an intervjuv in Voiles est Voiliers and I am shure that it will be good for my project "Yrvind Ten". Hopefully the article will appear in the June issue.
Below is a picture taken of us in Göran Marströms office. Me is to the right. Greatings and thanks to Jean Luc.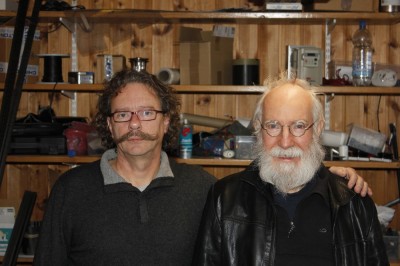 Now work on the boat and the 1/8 modell continues.