My plan was to sail Yrvind ½ to Australia, but after working with her for more than six months, finding ways to make her more weatherly and seaworthy I now think she is capable of more. I now like to try an east to west Cape Horn rounding in her.
I dont think that it will be easy, but I think if life is not difficult its not worth living. If you work to the limits of your capacity you do not get bored and you do not need entertainment and drugs.
The east to west rounding is called the wrong way. It is nothing wrong about it. Cape Horn earned its reputation by forcing Captain Bligh to give up, by giving the 1849ers who sailed to California looking for gold a harsh time. Going east about helped by wind and current is not the same achievement, nor is it to hide behind the nearby islands or in the Beagle Channel until you have a god weather report and then make a quick dash around.
The sailing lores old and well established starting point is latitude 50 south in the Atlantic, its finishing point is latitude 50 south in the pacific. It is an east to west rounding.
Singlehanded in a small boat that challenge is difficult. In fact to my knowledge only one person has succeeded doing that in a boat smaller than 60 feet. That person is Alfon Hansen from Norway. He sailed in Mary Jane a 36 feet gaff rigged Colin Archer. He had no engine. He left Buenos Aires in 1934. He arrived in Isla Chiloe 110 days later. After a brief rest he sailed north. He disappeared at sea in a storm. Only wreckage of Mary Jane was found.
Some people may think it is hubris to try to round the Horn in a much smaller boat, but i do not want to be remembered as a down wind sailor.
Below is my planned route, from Mar del Plata in Argentina to Valdivia in Chile.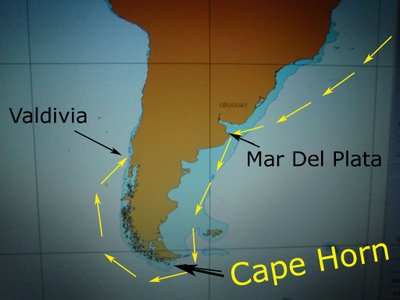 Below is a photo of Al Hansen with his cat and dog.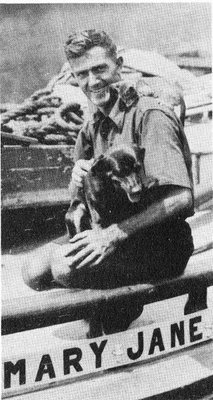 Below if a a photo of Mary Jane.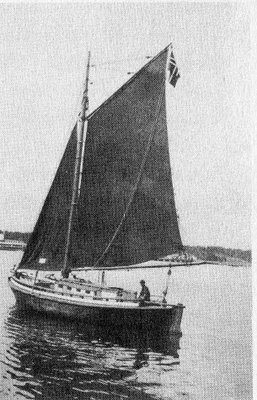 Below is particulars of Mary Jane.