The geometry of the C.B. is not self-evident if you like to have a down-haul and no lines crossing each other or the C.B.  A down-haul is not neaded for coastal cruosing may be not even for stormy waters, but I like peace and calm and when the boat is thrown around in big waves capsizing and pitchpooling it feels nice if the C.B. is not slamming about. Thats my opinion. Therefore I have included the extra complication of a down-haul. I like to be in control.
The first picture shows the plywood mock up of the C.B. from the outside. It is right at the bow of the boat. A very succesful position. I have crossed the Atlantic with a boath having a C.B. in this position. I like it. Several freinds of mine have built boats to this my design. Some of them have also crossed the Atlantic. With the board down one can ride out storm in comfort pinting high sailing very slowly, just fore-reaching. On you tube there is a 44 sek video "Amfibie Bris in a strong breeze". Looking were carefully one can just glimps the C.B. towards the end of the video.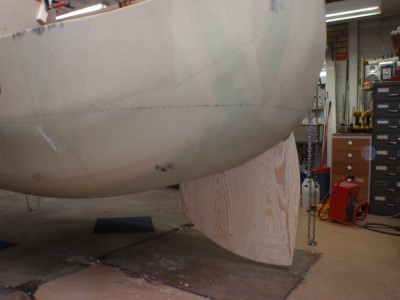 The secound picture shows the C.B. down from inside. The black line is the up-haul rope. The red tape shows the outline of the C.B. against the C.B.-case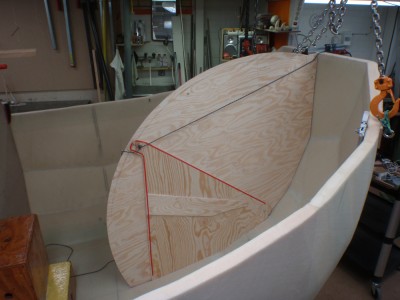 The third picture shows C.B. in the up position.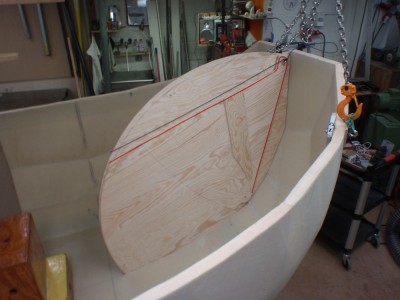 To be continued…
Regards Yrvind.