CLICK ON THE PICTURES TO MAKE THEM BIGGER
To make the rig adaptable to every wind condition she carries plenty of spars: one topp mast, two light wind booms, two hard wind booms one sprit and one big yuloh to be used when there is no wind. If I had them on deck there would be no place for things like solar panels. I carry them below deck in carbon tubes. The picture below shows the holes where the spars will enter.
This arrangement has the advantages of lowering the center of gravity and reducinging wind resistance. The spars and the mast are easily accessible from the main hatch. I dont have to go on deck to adapt the rig.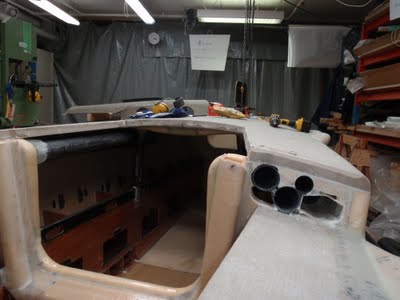 The picture below shows the spars in the main cabin, the bed room. The two vertical struts support the deck beam.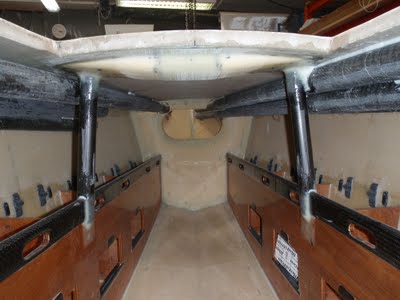 The forward ends of the tubes drain overboard. Here I am building up a support of aluminum netting for the glass fiber which will connec the tubes to the drains.