The wall has been torned down the boat is out on a trailer. Tomorrow morning I am driving to the Göteborg boat show at Svenska Mässan to put up the stand. The weight of the boat is now 272 kilos. The designed displacement is 1500 kilo evidently at the moment there is no weight problem. I lifted the boat by attaching a rope to the seat belts strong point. It is therefore tested with a good margin of safety.
The boat will after Göteborg go to the Stockholm boat show at Älvsjö. For six weeks she will be gone. We will be back in the middle of March. Besides spreading small boat lore I hope to sell enough books to get me enough money to continue my building. Thomas Grahn my adept from Vega Maja will be there to help me.
Below YRVIND TEN on her TK-trailer.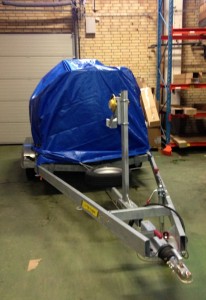 Regards Yrvind.
To be continued…