Thanks to Gunnar Bäckstrand of HGB BACKSTRAND AB I now have an excellent mattress which will protect me from the cold Cape Horn waters. It is 6 cm thick made of closed cells which means that it cannot get wet. Whith 6 cm mattress and 4 cm divinycell foam in the hull I will have a total of 10 cm or 4 inches insulation. If I then also can get hold of some old blankets in Argentina I will be worm and snug in my boat.
The picture below shows me cutting the mattress material to size.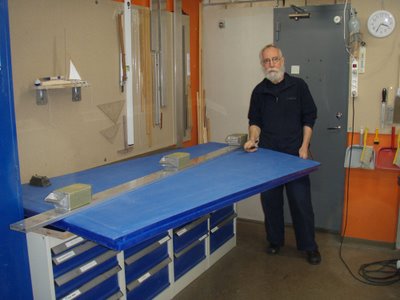 The picture below shows the mattress in the bunk. The size of my bunk is length 191 cm, wide at feet 40 cm, wide at head 68 cm. It is a bunk impossible to fall out of. Very secure.