YRVINDS CONSTANT WEIGHT DIET
The word diet comes from old French, from Latin diaeta, way of living, diet, from Greek diaita.
To keep in shape , to be able to climb through my hatches I have started dieting. I have created my own diet version, Yrvind constant weight diet. It is a powerful diet. Here it is in three simple steps.
Step one. Decide on a desirable weight.
Step two. When Friday comes stop eating until the desired weight is reached.
Step three. Repeat every Friday.
My last meal before the fast was Thursday 25 Nov, my first meal after the fast was Sun 5 Dec 2021
Below is a list of how my weight changed during the fast, weights to the left, difference from day before to the right.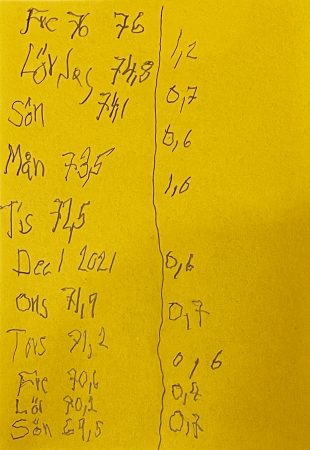 PLease support my project on Paypal or Swish.
Regards Yrvind.